Marilyn Monroe, everybody knows the sexy beautiful blond girl with angelic platinum hair, full lips and irresistible eyes! She was a star, every man fantasized about her! And, of course, an extraordinary woman who conquered the world. Everyone woman would like to be like her. My dream was to feel like Marilyn Monroe!
Video
"I hate being a sex symbol, but if I am to be a symbol of something, be it sex!" Marilyn Monroe
For men, she was always a sex symbol, but Marilyn was mainly an actress. She charmed me in her most successful and best-known role in the film How to Marry a Millionaire. The film shows stunning New York in the 1950s. Marilyn plays a young cute model who rents a palace with her friends in Manhattan with the dream of catching a rich man. And when watching this carefree film I remember her words:
"Live every day as if you were to live your whole life in it."
Although blondes have a certain stereotype that they are stupid, this beauty proves it wrong! Marilyn allegedly had a very high IQ. She was not just a charming woman full of grace, but she also boasted great intelligence. This is inspiring and exceptional, so I decided to turn into her for the Christmas party!
Would you like to do the same? I will give you advice on how to achieve it! Below you will find the procedure for creating make-up and a hairstyle according to the divine Marilyn from professionals – make-up artist Lucie Hrušková Gibodocá from French Look Makeup Academy and hairdressers from the Petra Měchurová Salon.
I'm ready, so it's time to go!
The preparations for the Christmas party did not take long, which surprised me a lot. Still, I am a few minutes late, but I would not be a woman if I arrived on time. It's not enough to have perfect makeup, I also need to have Marilyn's expression, so I practice it for little while in front of the mirror. Finally, I put on tje airy white dress that is inherently related to the Marilyn visage, and I recall what she once said:
"Your clothes should be tight enough to show that you are a woman, but so loose enough to show that you are a lady."
So let's see how many men won't be able to take their eyes off me today!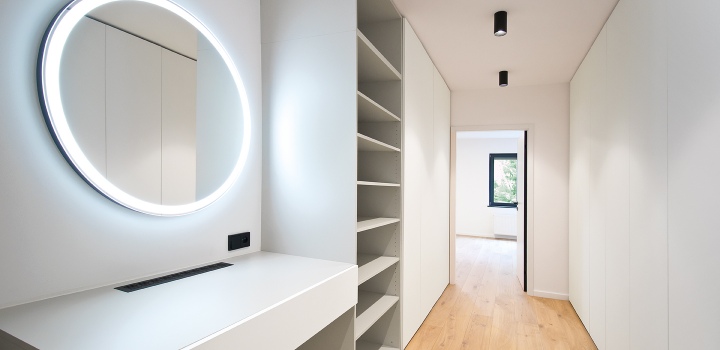 Luxusní penthouse na pronájem na Vinohradech, Praha 2
Show property
Make-up according to the divine Marilyn step by step!
Step 1: Apply foundation to the skin with a brush to create the impression of the alabaster skin Marilyn had.
Step 2: Brighten the eye area with a corrector and dab with loose powder.
Step 3: Use blush that is only a shade browner to create the impression of light tan.
Step 4: Highlight the eyebrows slightly with a lighter pencil for blondes. Then use a finger to apply a beige, slightly pearly shadow across the lid.
Step 5: Apply a pink shadow to the fold over the arch of the eye and the lower lid along the lash line.
Step 6: Apply a liquid matte liner from the outer corner of the eye inward. It is thinner and noticeably rises at the outer end.
Step 7: Use a darker red, almost claret lipstick on your lips.
Step 8: Finally, don't forget the typical beauty mark above your left lip.
Curl your hair into perfect waves!
For Marilyn, beautifully curled platinum blonde hair is typical. Someone can only achieve this using a wig, but I'm lucky to be a blonde too! The task for the hairdresser was clear: "I want hair like Marilyn in this picture."
Step 1: Start with a distinctive parting on the side to create a quiff.
Step 2: Curl your hair over the curler by twisting all the strands out from your face.
Step 3: Comb the waves with a brush.
Step 4: For a shorter effect in the back of your hair, clip it and create a fake mikado. Creating a parting from the ear to ear approximately 7 cm above the neck, separate the strand, curl the hair, and attach it to the head with a hairpin.
Step 5: Brush your curled hair backwards away from your face.
Step 6: Using hairspray, shape the hairstyle and curls with your fingers for a smoother effect.
Step 7: If your hair is longer than a mikado, simply attach the longer strands to the clipped back section so that the shape is as close as possible to a mikado, but at the same time the sharpness of the curls remains.
Step 8: Finally, pull out a strand of hair near your face and fix it with strong hairspray.
Step 9: For this hairstyle, it is advisable to apply a thermo-protective spray before curling and a spray with a powder effect before the final hair fixation.
A video revealing the process of creating make-up and hair in the style of Marilyn Monroe can be found in the article above, a photo of my transformation in the gallery under the article!
View photo gallery
Celetná 29, Praha 1, 110 00
lucia.hruskova@frenchlookacademy.com
Králodvorská 1085/12
110 00 Praha
Česká republika
kralodvorska@petramechurova.cz