Nearly everyone sometimes finds themselves in a situation when their partner puts a knife to their throat. There may be any number of reasons for this, but in today's world the number one reason is LACK OF TIME for relationships and family. One of the main reasons is too much work, which makes some women crazy.
And this is why I have prepared the TOP 5 best items of jewellery for you, which you can gift to essentially shoot the risk of DIVORCE right out of the sky in a single moment! And what could I know about this subject you think? Well, to tell you the truth I know enough to dare to write this article! :)
1. Tiffany, Harmony – love blessed by platinum
If you are in trouble up to your eyebrows, then the choice is clear. Visit Tiffany to buy a Harmony ring, which can also serve as an engagement ring. Nevertheless, you can present it as a gesture of the rebirth of your relationship. This ring, along with a voucher for an extended weekend away for two, full of relaxing massages, all crowned with a New Year's Eve at Château Mcely and you've nailed it!
Price: CZK 299,000 (it's definitely worth the peace it brings)
2. Hoorsenbuhs, Phantom II – a bracelet lovelier than the one from Gatsby
This American classic, which celebrates the nineteen twenties, uses white gold and a large amount of diamonds. It is unusual, elegant and, most importantly, timeless. I think it should be presented in a red box with a silk ribbon, along with a mini card stating: "Santa wants to see you wearing only this gift....Merry Christmas!". And believe me, those ten words will change your fate! There is nothing more important for a woman than for her man to desire her. And the price. Well this may hurt a little.
Price: CZK 1,494,779
3. Ana Khouri, Izabel – a diamond earring never fails
These earrings, embellished with 18 carat gold and diamonds, are so distinctive and different that when your woman puts them on she will realise that you didn't just take the first studs in the display case, but really took your time choosing! The only negative point is that they are sold by one piece and it's quite an expensive indulgence.
Price for one earring: CZK 281,750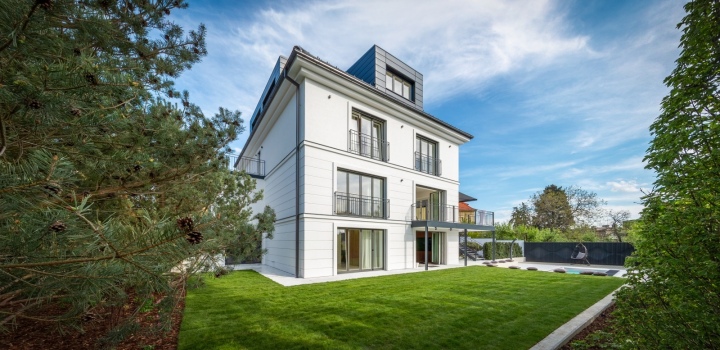 Luxusní vila na prodej Praha 6 - Hanspaulka, Praha 6
Show property
4. Anni Lu, Baroque Pearl Linen – the only pearl in the world
The Danish Anni Lu brand puts emphasis on originality and particularly uniqueness. I intentionally chose these unusually shaped pearl earrings, set delicately in 18 carat gold, because they fascinated me at first glance. They are natural, unmodified, raw and so perfect. Each pearl has its own shape and you won't find another like it in the world! Gifting these earrings makes it seem as if you whisper, "You will always be the only one for me". And the price. That will certainly surprise you!
Price: CZK 10,005
5. Cartier, Légers – Parisian happiness
If you know that your wife has refined tastes and knows her way around jewellery, then you have no other choice but to buy the French classic - Cartier. I believe the right choice here is the elongated necklace made from 30 carat rose gold and a total of 30 diamonds of various sizes. As Miroslav Donutil says in the film "Román pro muže" (2010): "I have very simple tastes, I am always satisfied with the best."
Price: CZK 504,600
I am sure that these items will certainly calm troubled waters and will guarantee a peaceful Christmas. So put a smile on your face and go for it!
Vánoce podle Tiffany!
View photo gallery