The important thing is that even if not every story begins well, ultimately there will be a happy end. As writer and a great optimist, Dale Carnegie said "When life gives you lemons, make lemonade". In the past I used to ridicule this saying, making jokes that in our place it would be more likely an orange juice than lemonade. Until this Christmas...
Video
My Christmas story begins at one of the most prestigious locations in Prague - Malá Strana.
Here I am - a young Czech woman in the bathroom of a beautiful, recently renovated apartment, which we have named with my boyfriend "Chateau Savoy", as it is located only moments from a coffee shop of the same name.
Immersed in the IlBagnoAlessi One bathtub with which I fell in love at first sight at Elite Bath, I am enjoying a scented soak. I am happy and all tense with anticipation about approaching Christmas. I am separated from meeting with my boyfriend David by just a couple of hours! After two months he is today finally to return from a business trip in Asia and we are to spend together our very first Christmas!
STOP: mainly not to forget again to put our favourite champagne, Piper Heidsieck, into the ice bucket …
In the hot water my décolletage is pleasantly cooled by a stunning necklace by Gismondi (blue heart-shaped aquamarine, surrounded by diamonds), which I got as a present from my beloved man for my thirty-third birthday. Suddenly I feel as if the whole world belongs to me! What more could one ask for? I am still young, attractive, I have a great relationship, interesting work, I surrounded by luxury and I am here and now living the life of my dreams! Perhaps at Christmas (or if not on Christmas Day, perhaps on Valentine´s day) my boyfriend could propose?!
Luxusní penthaus na Praze 1 - 226m, Praha 1
Show property
Suddenly my bathroom euphoria is interrupted by an unexpected phone call!
"Hello my dear," I hear David's familiar voice. "Hello," with joy I blink into the phone. Could he be at the airport already? He continues: "My dear I am still abroad, and I have a terrible lot of work. Don´t wait for me this holiday. Bye!" He hung up…
It took me several days to get over that phone call. I still have a million questions: Does he have someone else? Did anything happen? Does he think that I am not the one? I still hope that he will ring on the door. Or at least when I call his number I could stop getting his answering machine all the time!
I take a look round at the apartment - everything is so beautiful here, from the Varenna kitchen and Minotti furniture, which we bought together at the STOPKA design studio, up to Lasvit lights, which in addition to our ceiling decorate inter alia interesting world locations, such as the breath-taking opera in Dubai. The blue velvet chair Poltrona Frau has actually been delivered by the owner himself, Jiří Stopka. It was so amazingly beautiful, that we simply had to have it!
For a little while I try to entertain myself by reading a fashion magazine that a friend forgot here. Usually I only read online, on principle I don´t buy paper issues of magazines at all. They don´t make any sense! In a short while they anyway follow the fate of all their predecessors and successors, and end up in the waste paper basket. I don´t know about you, but I am fundamentally against the felling of Czech forests! 
Even in a luxury apartment, three days between the four walls is a very long time...
What time is it actually? However, the Qlocktwo clock from Dušák jeweller instead of the usual time displays a message that changes everything: "It's time to go out!"
For a moment I sit and wonder whether I have really seen that or whether it was all just a dream... And then like a comet a clear idea comes to my mind:
"I have to get out! He will not come back!"
I put on my favourite grey knitted coat by Brunello Cucinelli, a credit card to our account and I go out to get some fresh air. I, too, want to enjoy charming Czech Christmas!
On my way out of the flat I pick up a round designer speaker Beosound Edge by Bang & Olufsen. Resonating music will cheer me up and recharge my energy in order to move forward.
When a woman´s life is collapsing, it is time to go to a hairdresser.
In the Old Town, where I soon found myself, I came across the salon of Libor Šula. When I sat in the hairdresser´s chair, with some surprise, I started to observe how my mood started to change. It was with a glass of lemonade from creative director of the salon, Klára, who swore to "return me to life" through hairstyling magic, that I recalled Carnegie´s lemons and decided that I will never again be a sad ugly duckling. I smiled at myself in the mirror and set out with a new hairstyle to the Old Town Square.
On the way to the Christmas tree a beautiful engagement ring sparkled at me from the Cartier storefront. For a moment I looked at it sadly: it is precisely the one I wanted to get from my boyfriend! But so what, I shrugged my shoulders and walked on with a smile. If not now, perhaps some next time.
"All of that is only the end of my dreams with David, but it is not the end of all my dreams".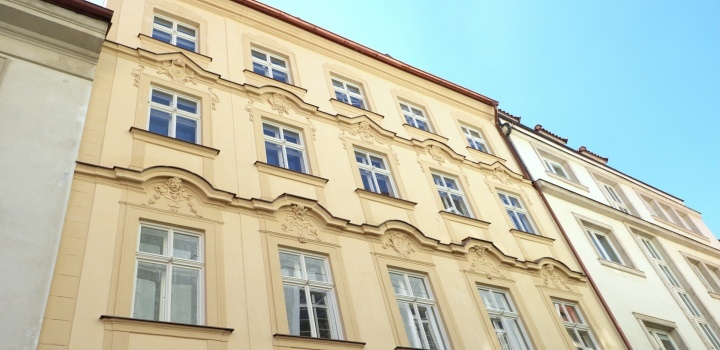 Luxusní byt v historickém domě Malá Strana 67m, Praha 1
Show property
Prague, how beautiful you are! There is not a single season of the year which wouldn´t suit you! The Christmas market at the Old Town Square radiates good mood and happiness. This year the Christmas tree looks extremely successful! Beside it I feel like Cinderella, ready to be transformed into a princess.
And this transformation starts right now!
The last three days it all went downhill with me, but now I am back, feet on the ground and they don´t lead me anywhere else than into beautiful boutiques and shops!
It is time to buy a new watch, a thought passes through my mind when I see an Omega boutique directly in the square. I choose a modern and yet stylish model with diamonds. On my hand they look absolutely great, as if made to measure!
Then I recall that it is noon already and that I still haven´t had my coffee! And where else to go than to Nespresso? It is bad taste (in Italy it passes for a crime) to drink cappuccino in the afternoon, so I ask for an espresso from the limited edition; 'Parisian Gourmandise'. I love macaroons, therefore I choose the "Paris Macaroon" flavour.
On the way to my favourite Dolce & Gabbana boutique a strange man smiles at me and says that I look very beautiful. Sometimes a well-chosen coffee can do wonders I think and give him a farewell smile.
The Moser store is the most beautiful of all anyway
I do not want to offend the other boutiques, which are elegant and of stylish design, but the Moser shop is full of history. It is located in the historic palace of the commercial centre Myslbek and has a true Prague spirit. I like to come here to feel its unique atmosphere and to draw pleasure from the beauty of Czech glass. There is an interestingly decorated Christmas tree; how else than by products from the Moser workshop! What is it on the tree? It looks like a bell. "It is not a bell" explains the elegant lady who works here. "But a glass for wine tasting". I must have that!
If I were to be an animal in my next life, I would pick a leopard.
Why? I do not know a sleeker beast, and I am not surprised that leopard print is experiencing a kind of renaissance this year! That is why top designers, such as Dolce & Gabbana virtually never exclude it from their collections.
Leopard dress "carry over" and leopard trousers from the "Cruise" collection fit me perfectly". There is also an immediate attraction between me and the "Sicily" handbag from the permanent collection inspired by Sicily.
My purchase is complemented by a nice smile of the shopping assistant, Anastázie: "Merry Christmas," she wishes me and I respond with a smile: "I also wish you a beautiful holiday!"
I am inclined to have a stroll along the river, but on the way to Rudolfinum I see in the shop window of the OBSESSION boutique the dress of my dreams. I do not know whether this has ever happened to you too, that having tried on something you couldn´t get any rest. It is irrelevant whether it was a dress, sneakers or a sweater with a deer.
I must confess that I tried on a dress by Elie Saab a few weeks ago, then a week after that - and today. I have probably never had anything nicer on ever! NEVER…even in the bathtub (at the beginning of the story), I had hoped that my wedding dress would be from none other than Elie Saab! But my dear, if you still haven´t realised (I in fact have), there is not to be any wedding in the near future! Which is another reason why I simply have to buy this beautiful black dress adorned by feathers as well as the shoes by Gianvito Rossi with Swarovski elements!
Happy as a child, I spin round directly below the mirror ceiling at the OBSESSION boutique, from which I am leaving in a warm knitted soft coat, light as a feather, from the current collection of Yves Salomon.
When you don´t have anyone to make you happy at Christmas, you need to do it yourself!
At the riverbank I watch a beautiful sunset, in front of me there walks a couple in love, holding hands, and I once again feel my pre-Christmas melancholy. To be clear, I do not believe that money can replace our friends and family. Sincere love and family cannot be replaced! Finances only give us more options and opportunities. There are plenty of controversial views on "shopping therapy", but let us be honest - it almost always works. It is also a crime not to make yourself happy for the holidays when you know that nobody else will.
I go along the river and suddenly I see her; like a woman heading forward - the spirit of ecstasy on the hood of a Rolls Royce Ghost!
With curiosity I come so close so as to be able to look at it properly. I feel that we have a lot in common. There is no time to turn to the past, it is necessary to go forward. I remember how me and David dreamed of this car. A few times we have visited the showroom at the hotel Intercontinental!
Then the door opens and I humbly get in. This car will not leave you just so, not only is its design honed to perfection, but you feel great power inside! The lady driver asks: "Good day to you, Miss, where would you like to go?" And I naturally answer (although admittedly I don´t know where I am going but this drive cannot be missed) "To the airport please".
I need to go away for a while
At the terminal 3 of the Václav Havel airport, I look confusedly around; I am surprised that there are so many people at the VIP terminal. The receptionist welcomes me and asks me where I would like to fly. Without hesitation I admit that I do not know myself and that I just need to get away for a while. Looking at me she finds that I don´t even have a suitcase, just shopping bags and with understanding she looks into my eyes. "I will have a look at what flights are available in the near future," she says. When she is making a search, she is suddenly interrupted by her colleague with some message.
"In a minute a private aircraft is to take off, going to St. Moritz and its owner would like to offer you a place" she continues with a surprise…
"Goodbye Prague, see you next year!"
With a smile I ascend the stairs to the aircraft. A little out of breath, but happy about how unexpectedly the day has developed, I sit down in a comfortable leather seat of the luxury aircraft, OK Aviation. In a moment a glass arrives, of my favourite champagne Piper Heidsieck (they have it here, too!). I thank her and exchange it for a signed envelope with the magic credit card to which it is high time to say goodbye.
Ready to feel the luxury taste of champagne I lift the glass closer to my lips, when a handsome man speaks to me from the neighbouring seat: "To new beginnings, Miss!" Surprised I smile and think: Finally, fate has sent me a charming neighbour on board! I toast and clink glasses answering: "To new beginnings in 2019!".
View photo gallery