The smallest Prague quarter
On the cadastral map, this Prague quarter has mere 8.81 ha. The quarter makes up in its mysterious past and the customs of the local Jewish residents what it lacks in size. In administrative terms, the quarter is referred to as Prague 1. However, the quarter was called "Judenstadt" from 1850 and was also referred to as the "Fifth Quarter" until 1960. The quarter was named after Joseph II, the son of Maria Theresa, who granted equal rights to the Jewish population.
Renovation of the quarter
A similar process also affected other European cities, such as Vienna. The targeted changes in the built-up area involved demolition of the existing buildings and reducing the number of residents (there were 10,296 people living here in 1869) in the effort to eliminate "medieval sanitary conditions". After this, only 6 synagogues (Klaus, Maisel, Pinkas, Old-New, Spanish, and High Synagogues), the Jewish Town Hall, and the Old Jewish Cemetery were preserved.
Josefov after World War II
After the Jewish residents were deported, the quarter was run down and became a storage site for the confiscated assets. After the end of the war, many real estates and heritages remained the property of the Jewish Museum, which became the second largest Jewish museum worldwide. This Prague quarter with its quiet dignity is a memento of the dark side of humanity. It is the cruel side we should suppress and replace it with love, acceptance and tolerance.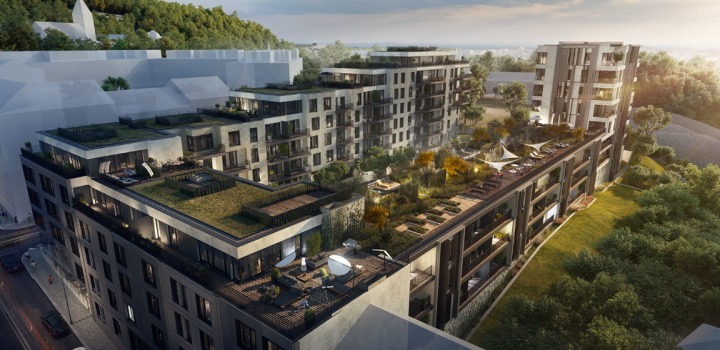 Luxusní byt k prodeji - Praha 5 - 94m, Praha 5
Show property
What to see
If you like history, take a walk through the Old Jewish Cemetery of visit the Old-New Synagogue, one of the oldest synagogues worldwide. The atmosphere of the past is quickly replaced by the luxury and modern style of the present times when you visit fashion boutiques of renowned brands. Savour a gourmet experience in one of the luxury restaurants, which naturally serve kosher meals. Take a tour through the collections of the Museum of Decorative Arts. Snap several unique pictures near the house U Reduty or the house of the Merkur trading society. Buy a luxury item as a reminder of your visit to this wonderful place. Josefov in Prague has lots to offer.
Video
View photo gallery