"Born out of stormy times we have awoken, and step by step in storm clouds go to meet proudly our lofty goal, our backs unbroken, unbowed, except compatriots to greet. We knew what strife to cross our path was waiting; although the thunder roared, as frost gnawed bone – such ancient Czech refrains, and unabating, are music to stride forward to – go on! (Jan Neruda, Friday Songs, Onward)
With these words on my lips I approach the memorial of my beloved poet, Jan Neruda. Artists whose message is indelibly ingrained into the minds of our nation. It has already been 27 years since he died. Today, in 1918, this seems like an eternity.
The atmosphere of the local Vyšehrad cemetery is depressing. I feel sadness, but also untold pleasure that I have an opportunity to live and breathe to the full. My mind was burning by one desire: "If I could only find myself on this spot after another hundred years!"
Video
A sudden reversal of circumstances 
What is happening to me? My heartbeat is drowned by the ambient noise of the hectic metropolis. The air is full of unusual smoke, there is noise everywhere. My head is spinning. Where is my carriage? Incredulous I walk down to the Vltava River toward the ships anchored at the bank. Before I see colourful, unusually-looking ships with strange inscriptions. They move without giving off any steam. Strange, I think...I don't recognize it here. Yes, something must have happened! I am confused, agitated, trying to keep calm, even if it all seems like a dream.
Finally, I saw at least a car which seems familiar to me. I stop it and I give my instruction for it to take me to Slavii cafeteria. I long for nothing else than to order a coffee, relax and meet with my dear beloved. I am here and he is nowhere to be seen. Yes, I know him well, he always keeps me waiting. But a short while turns into endless anguish and expectation. I order my coffee and enjoy the views of Prague Castle.
Slowly I realise that my wish expressed at Vyšehrad, to find myself in Prague in another hundred years´ time, seems to have become reality! But then no one will arrive to meet me... Everything darkened in my eyes: "Am I really in Prague 100 years on? If it´s true, the year now is 2018. Unbelievable!"
Great surprise
I finish my last sip of coffee, with slightly shaking hands. I leave a considerable amount of money and I am going to explore the beauties of the ´new times´.
My steps led me to an antique shop. "That is impossible," I whisper surprised. "How did it get here? My engagement ring, proof of everlasting love of my husband, is directly in front of my eyes!" In a sense it is a bit of relief, I have found at least a piece of my home. I don´t hesitate to go in and I ask the kind lady if I could try the ring on. Yes, it fits like a glove. Admiring the family jewel, my eyes fall on something fascinating: an evening dress of elegant cut in my favourite powder pink colour, real pearls, a delightful handbag. All my senses are overwhelmed by pleasant sensations and my imagination is working overtime. They will be perfect for a stroll in the city streets, I will look truly sleek and chic. I brought my desire to perfection.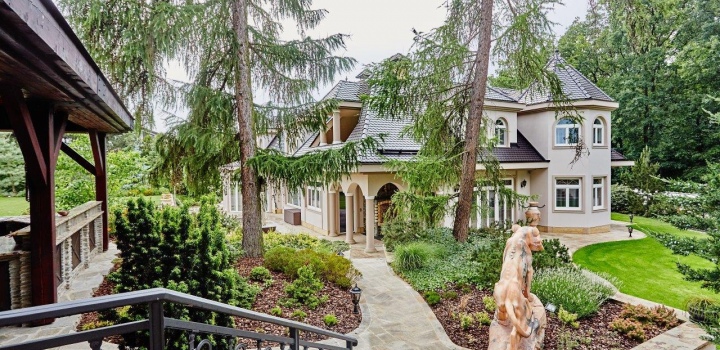 Luxusní vila na prodej Praha východ 1341m, Okolí Prahy
Show property
What happened to Czechoslovakia?
My steps lead me toward Malá strana, walking past the commemorative plate with the heading Chamber of Deputies of the Parliament of the Czech Republic. My eyes look on incredulously, my mind cannot take it in. Isn´t the Czech Republic and Slovakia one state any longer? With pain in my soul I continue through Neruda´s Street to the Castle. "Oh, Prague Castle, majestic memorial. I sincerely hope that you stayed as you were". I am looking at the courtyard and the gateway; they are the same. I have a feeling that even the 100 years did not take anything away from this fine building. I slowly turn to the magic viewpoint, focusing my sight. To my dismay; however, I see a grey big "V". Lots of buildings of contradictory architecture. I am at a loss and my eyes fill with tears.
My lips again pronounce the words of Jan Neruda, with whom my mind echoes: "In my home country I am but still a strange longing burdens my heart, I see again places of my childhood, but still, this is my home no longer. Strange faces, strange cold custom, strange to my sentiments are the sounds all around, that I would have wept in my own house the song of longing - longing Odyssey!" (Jan Neruda, Book of Narrative Verses, Czech Verses)
I feel torn at heart, sorrow and confusion. I cannot believe it. "I wish to be back in my own time!"
View photo gallery