The monumental opera house in Dubai is the creative heart of the art of the entire city. Located in the center, proudly built on the edge of the ocean and the desert, it represents strength and faith in the future. This is a great architectural achievement that has shifted the boundaries of design and innovation.
What can we say about it at first glance?
The luxurious Dubai Opera looks and was designed to as a stylistic tribute to Dubai's maritime history, reminiscent of the traditional sailing boat called "Dhow".
The building is located on Lake Burj Khalifa and has a height of 44 m. You will definitely be interested in the arched roof containing approximately 3600 tons of steel and mechanical and electrical systems, indicating the amazing abilities of human engineering. The great design of the building was done by the company Atkins. The construction itself is the work of the company Emaar Properties. The luxurious building was completed in 2016.
Janus Rostock, Atkins project manager and project architect of the Dubai Opera said:
"We looked into the Dubai heritage and traditions to find inspiration for the architectural language that would celebrate the city's history and support its future."
Video
Variability and beautiful views as far as the eye can see
The uniqueness of the inner part of the building lies in the changing space. It can go from theater to concert hall or flat floor at a snap of the fingertips. It offers the perfect flexibility of an arched theater, an acoustic concert hall and an area of 2,000m² . The configuration allows for approximately 2,000 concert venues and up to 1,000 places for gala dinners.
This flexibility allows the opera to run a wide range of performances and events, including theater, opera, ballet, orchestra performances, concerts, fashion shows, live entertainment, conferences, galleries and art exhibitions. In addition, the Dubai Opera House boasts a stunning rooftop restaurant and a breathtaking view of Dubai's Fountain and the tallest building in the world, Burj Khalifa.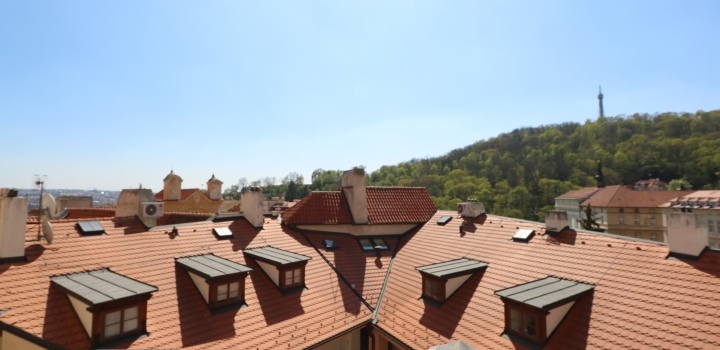 Luxusní byt na prodej Malá Strana 123m, Praha 1
Show property
The spectacular luxury of Lasvit ceiling lights
The Dubai Opera boasts luxurious lighting called Symphony, a product of the world-class Lasvit brand. Symphony is lit up with almost 3000 LED lights and sparks with thousands of hand-blown crystal components. In its deep structure, it carries the symbolism of countless grains of sand from the desert and water droplets of the ocean.
View photo gallery
Komunardů 32, 170 00
Praha
Dubai Opera, Downtown Dubai
Mohammed Bin Rashid Boulevard