From Sunday to Monday the Los Angeles hall Staples Center awarded prizes of the American Academy of Music, Grammys. Four awards were taken home from the 61. year in the main or genre categories by singer Kacey Musgraves and rapper Childish Gambino.
Grammy 2019
This 61. edition of Grammys was launched by presenter of the gala evening, singer Alicia Keys, holder of 15 Grammys, who right at the introduction brought with her on to the stage also the former first lady of the United States, Michelle Obama. She briefly appeared on the stage with singers Lady Gaga and Jennifer Lopez and actress Jada Pinkett Smith and each of them said what music means to them.
The main awards
The Best Rock Album award was won by the album From the Fires of American band Greta Van Fleet. Grammy for the Best Album of Alternative Music was won by singer songwriter and multi-instrumentalist Beck (Colors). American singer Ariana Grande won her first Grammy in the category of Best Pop Vocal Album (Sweetener). Three awards were won by singer Lady Gaga.
Musician, producer and composer Quincy Jones got his 28. Grammys, this time for the Best Music Film (document about him called Quincy). Former American President Jimmy Carter got his third prize in the category of Best Spoken Word, this time for audio version of his books Faith - A Journey for All.
Singer Chris Cornell obtained a Grammy posthumously; he committed suicide in 2017 at the age of 52 years, for the Best Rock Performance for the song When Bad Does Good from his album issued last year. 
Standing ovation during the performance was enjoyed by Dolly Parton when she sang in commemoration of her own career with Miley Cyrus, Katy Perry or Kacey Musgraves.
Another legend, Diana Ross also elated her audience when she finished her performance; in March she will celebrate her 75th birthday. Not only the original audience was pleased, too, by the memory of music from the famous Detroit record label of Motown, which will this year celebrate its sixtieth anniversary. Hits such as Please, Mr. Postman, Money (That's What I want) or My Girl were performed by Jennifer Lopez, again (and again great) Alicia Keys joined in for Papa Was a Rolling Stone, with veteran Smokey Robinson joining in, too.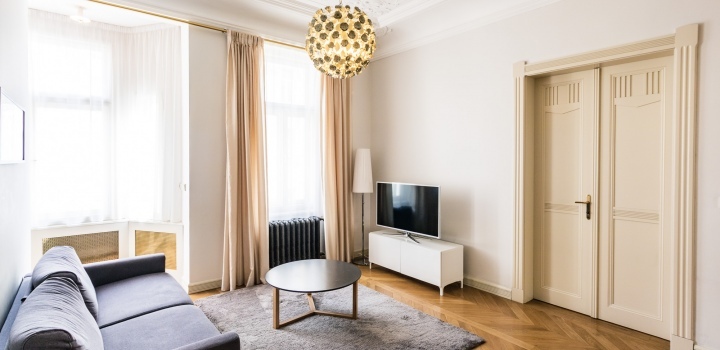 Luxusní byt na prodej Staré Město 159m, Praha 1
Show property
The Grammys have more than 80 categories, awards are also granted to interprets of various musical genres, including jazz and classical music.
Selection of Grammy Award winners
Recording: Childish Gambino This Is America
Album: Kacey Musgraves - Golden Hour
Song: Childish Gambino - This Is America
Discovery: Dua Lipa
Pop duet: Lady Gaga and Bradley Cooper - Shallow
Pop solo: Lady Gaga - Joanne
Rap album: Cardi B - Invasion of Privacy
Dance or electronic album: Justice - Woman Worldwide
R&B album: H.E.R. – H.E.R.
Rock Album: Greta Van Fleet - From the Fires
Country album: Kacey Musgraves – Golden Hour
Reggae album: Sting & Shaggy - 44/876
Compilation soundtrack: Hugh Jackman – The Greatest Showman
Producent: Pharrell Williams
View photo gallery
MusiCares
104 West 40th St., Suite 400
New York, NY 10018