Its name, the Black Swan, refers to the local White Swan clothes shopping mall. The Black Swan Gallery was established on the 8th floor of the Black Swan, one year after its opening. Right from the beginning, the idea was to combine timeless design with pleasantness, luxury and the outside world. And it all came true, exactly as envisaged. Consider for yourselves: a single area contains relaxation areas, offices, a ballet school and a gallery with a beautiful view of Prague. 
The Black Swan Art & Event Gallery
The eighth floor of this building is now an integral part of the cultural and social life of Prague. It contains a timeless multicultural gallery which underwent two years of redevelopment and which offers its unique post-modern areas for various exhibits as well as for rest. The "new wings" of the Black Swan was the work of its director Ondřej Škarka, designed by renowned architect Eva Jiřičná.
No expense was saved on the technical facilities of the project, and so aside from profile exhibits of artists and private events it is also possible to host concerts and site-specific performances here.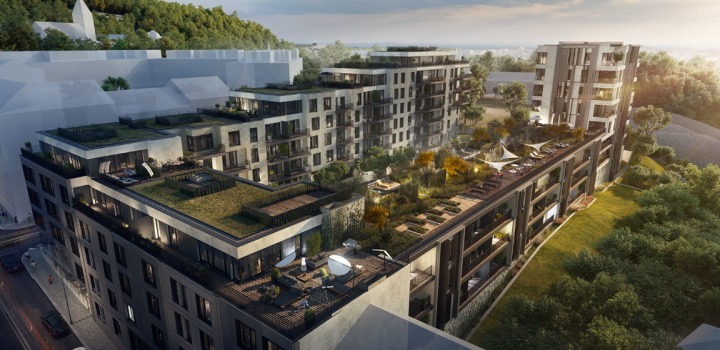 Luxusní byt k prodeji - Praha 5 - 94m, Praha 5
Show property
When entering the gallery, you will be welcomed by the luxurious bar desk of Gravelli, a renowned Czech design company nominated for the Czech Grand Design competition; this piece utilizes concrete in a very careful manner, making it a highly aesthetic material. The robustness of concrete is refined, and innovative technologies were used to make it rigid even on the scale of millimeters. In fact, the first exhibit in the new gallery was dedicated to Gravelli and their work.
Luxurious interconnections
The multi-functionality of the Black Swan is also clear from the areas it focuses on. Aside from art, it also specializes on the highly modern trend of organizing thematic and gastronomical experiences. Those who yearn for something exceptional, unique and fulfilling will find what they are looking for here. Interested in an all-inclusive Ayurvedan breakfast, or perhaps in snail racing? Fantasy has no boundaries and the possibilities are truly endless.
Visit the gallery – you won't regret it.
Upcoming exhibits:
Irena Křivánková - TETRAMIN, 4 February – 26 March 2017
Lukáš Miffek -  Black Flek, 1 April – 21 May 2017
Video
View photo gallery
ČERNÁ LABUŤ – 8. patro
Na Poříčí 25, 110 00 Praha 1