Alison Brie, Constance Wu: Beauties in gowns by Vera Wang
In similarly breath-taking gowns also arrived actress Constance Wu and Alison Brie at the prestigious ceremony. Both of them put on a luxurious dress by designer Vera Wang. Alison placed her bet on a tulle gown in lavender, Constance chose a dress in nude tone of corset cut, cinched at the waist by an orange ribbon. We have nothing to criticise, this is what perfection looks like!
Penélope Cruz and Kristen Bell drew from their experience!
Penélope Cruz and Kristen Bell know what works for them! Both actresses embellished the evening, although each one opted for a very different type of clothes as well as designer. For the Golden Globes ceremony, Penélope chose a luxury dress by Ralph & Russo Couture, for which she correctly chose a minimum amount of jewellery.
Kristen Bell on the other hand chose a less pompous dress by Zuhair Murad and that is why she was able to afford more striking jewellery in the form of massive bracelets. Kristen is flattered by fine make-up as well as hairstyling, which she has chosen to wear to complete the look.
Julia Roberts and Emily Blunt turned their backs on traditions
Smiling Julia Roberts this time round didn´t wear any sumptuous gown, but placed her bet on a black overall in combination with a powder-pink dress by Stella McCartney. She accompanied her outfit by dainty strappy high heels and she looked very glamourous.
A similarly unconventional gown was also chosen by actress Emily Blunt. Although she wore a dress, this model by Alexander McQueen looked significantly different from all the other gowns. Emily decided to omit fluffy skirts and opted for lace and asymmetry. To accompany the dress she chose similarly to Julia a pair of dainty romantic heels.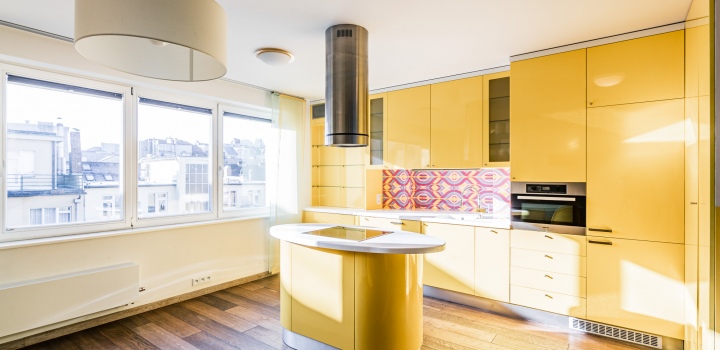 Luxusní byt na prodej Praha 1 Nové Město, Praha 1
Show property
Fanning, Fischer and Kidman: Not wrong, but nothing to get excited about
Exactly such is our impression made by the dress of Dakota Fanning, Isla Fischer and Nicole Kidman. Dakota wore for to the luxury event an ice-blue satin dress by Giorgio Armani Privé which beautifully accentuated her feminine curve, yet we would have recommended the ethereal actress a more flattering hue.
Isla Fischer presented an entirely classic black dress by Monique Lhuillier, with which there it nothing wrong, but there is nothing special about it either. However, what we really like is the luxurious jewellery which lent Isla the right amount of sparkle Nicole Kidman looks too uptight in the dress by Michael Kors and optically add extra inches to the otherwise slender actress. But the untraditional clutch bag is a perfect choice!
The dress is beautiful but what about the chest, Heidi?
Model Heidi Klum arrived at the Golden Globes, similarly to Isla Fischer in a dress by Monique Lhuillier. The dress itself is beautiful and romantic but what about the corset when it deforms the model´s chest in such an unflattering manner? That really wasn´t well done!
And what about the more mature ladies?
The Golden Globes ceremony was also attended by experienced actresses such as Jamie Lee Curtis, Laura Dern or Maya Rudolph. Which of these has won in our opinion? Certainly Laura Dern with her red minimalist gown by Valentino. The colour and cut are flattering and look youthful.
Jamie Lee Curtis in comparison tried too hard and in the snow-white dress by Alexander McQueena with silver applications looked a insecure. Maya Rudolph bet, similarly to Laura Dern in Valentino, but in this case the result was not so dazzling.
Missi Pyle´ ensemble was a fashion faux pas
The figure-hugging red dress, worn by actress Missi Pyle, was one of the more simple ones. It flattered her figure and we would have no objections if Missi wouldn´t so playfully pose for the photographers on the red carpet... During it, she revealed that there was still a sticker on the sole of her new high heels and that is a faux pas that is not easily forgotten.
Martina Šmalclová