Already the trip to the US, Monika Babiš started with grace. For this occasion, she put on a luxury white coat by Fendi with a striking real fur trim and complement the outfit by a Hermès Birkin handbag of nude shade. 
Fashion duel in the White House: Monika Babiš vs Melanie Trump
For a visit to the White House, Monika Babiš wore Fendi in combination with Jimmy Choo. Monika sported a double-breasted pink jacket with real fur from the Fendi Resort 2019 collection by Karl Lagerfeld. Was it also meant as a gesture of recognition of the unique work of the legendary designer? As an accessory she picked a handbag in a neutral tone of ivory and put on luxury high heels by Jimmy Choo. Under the jacket she wore a cream-coloured dress with three-quarter-length sleeves which fitted her to perfection.
The famous style of Melanie Trump has not sufficed this time round
Melania Trump on the other hand went for a bold green shade and wore a trench coat by British designer and model, Alexa Chung. This she accompanied by legendary footwear with red soles of Christian Louboutin, namely the So Kate model.
Melanie Trump did not take off her trench coat throughout the entire visit of the White House, which is a pity. The outcome of the fashion duel thus speaks in favour of Monika Babišová, who showed that she thought the outfit through and through and overall it was just easier on our fashion eye.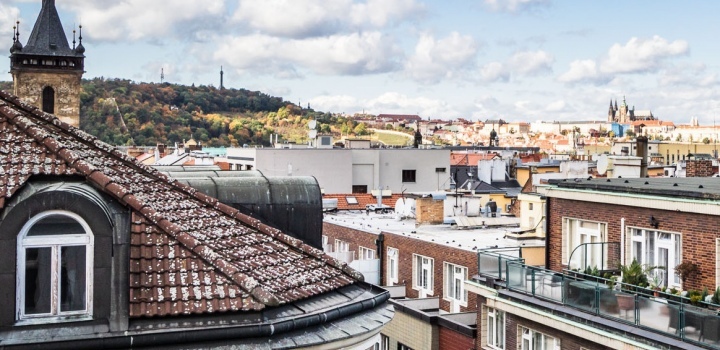 Luxusní byt na prodej Praha 1 Nové Město 165m, Praha 1
Show property
Not only the visit of the White House
Within the framework of his agenda in the USA, Andrej Babiš with his wife Monika did not head only to the White House. A part of their journey was also a visit of the Tomáš Garrigue Masaryk memorial, a visit to the American Chamber of Commerce, a formal dinner at the Embassy of the Czech Republic or participation in an NBA match.
At an event organised by Melania Trump, Babišová looked stunning. But not so at a traumatology centre
Outwith the agenda, Babišová also visited a non-profit organisation, Boys & Girls Clubs of America or a traumatology centre for war veterans. In this case she did not much charm us in her white dress with brown spots, which she selected for this occasion. However, she showed some style at the prestigious 2019 International Women of Courage Award, to which she was invited by Melania Trump herself. In a sky-blue dress with widening sleeves she looked at least as good as in the White House. 
Nobody can say that Monika Babiš doesn´t look very representative, indeed
The bottom line is. Although some reproach Monika Babiš for her ostentatious style and the exorbitant prices of the outfits which she put on for her journey to the US, one thing cannot be denied; after a long time, the Czech Republic has a lady who understands her role of representing our country.
Martina Šmalclová